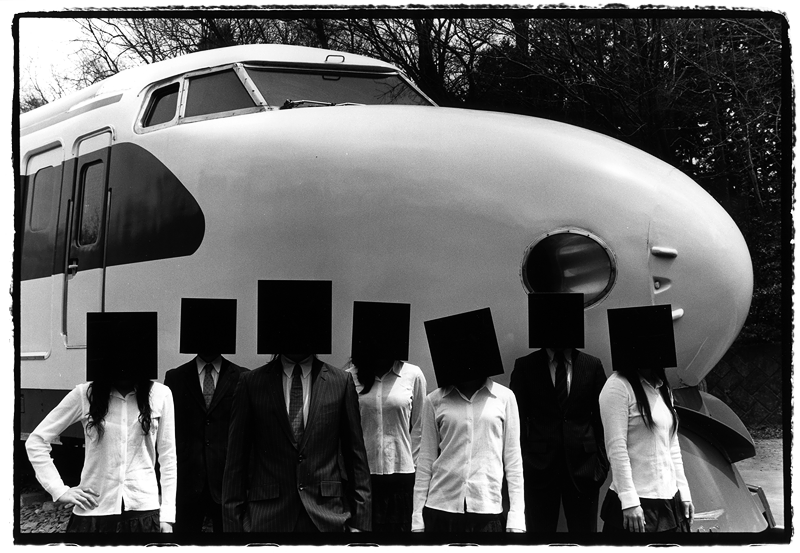 photo:Kosuke Tsukada
GRINDER-MAN
GRINDER-MAN is a performance art group, aiming for the creation of art that is thematic of 'here and now' in their artistic expressions, thus, GRINDER-MAN embrace the contemporaneousness -'now'- and the contingency that the performers and the audience meet 'here' at the performance site.
The members are Hitoshi Taguchi, from contemporary art background, and Makiko Izu, from contemporary dance background. They work in a broad range of the performance fields: artistic directions, choreographies, sound and lighting designs, direction for the film, casting, producing, etc. so their works cannot easily be categorized into one simple existing genre of art.
GRINDER-MAN's artistic quest is to 'be simple' by taking off the decorative expressions of themselves and their surroundings:
-Performers wear boxes to blank their faces off
-Plural performers move identically and uncharacteristically
-Dance, sound and light, these three elements are quietly harmonized
However, there is no such thing as perfection in this world. Paradoxically, it is the primitiveness of humans, which cannot be perfectly boxed and simplified, that we find when we attempt to approach the pure simplicity. Primitiveness exudes from the box of simplicity.
That is the moment of beauty.
Selected works and participated projects (2015-2011)
2015
2014
2013
2012
2011
Performed at (2005-2010)
Asahi Art Square (Tokyo) / Kobe Biennale 2009 (Hyogo, Japan) / Esplanade Waterfront Canopy (Singapore) / Kyoto City University of Arts (Kyoto) / Kyoto Art Center (Kyoto) / BankART Studio NYK (Yokohama) / Iwate Prefectural Museum of Art (Iwate, Japan) / Yokohama Triennale 2007 (Yokohama), etc.
Contact
Ikkac Inc.(management office)
Windueno Bld. 5F 5-13-4, Ueno, Taito-ku, Tokyo 110-0005 JAPAN
tel. +81-3-5761-4655
fax. +81-3-5761-4656
email